The Selecao have a chance to win consecutive Olympic gold medals if they beat Spain in the final on Saturday …
Brazil will face Spain in the Tokyo 2020 Olympic Games men's soccer final at the Tokyo International Stadium in Japan on Saturday.
After their triumph in Rio 2016, where they defeated Germany 4: 3 (1: 1) on penalties in the final, the Selecao are aiming for a second gold medal in a row at the Olympic Games.
Before Brazil, only four men's teams won the gold medal in a row. Great Britain was the first to perform this feat at the Olympic Games in 1908 (London) and 1912 (Stockholm).
The last team to win two gold medals in a row were Brazil's arch-rivals Argentina, who won in 2004 and 2008. The most successful team in the history of the Olympic Games, Hungary (three gold medals) won two medals in a row. 1964 and 1968.
The five-time world champion also has the chance to catch up with Argentina and Uruguay, which are currently the most successful South American teams in men's Olympic football.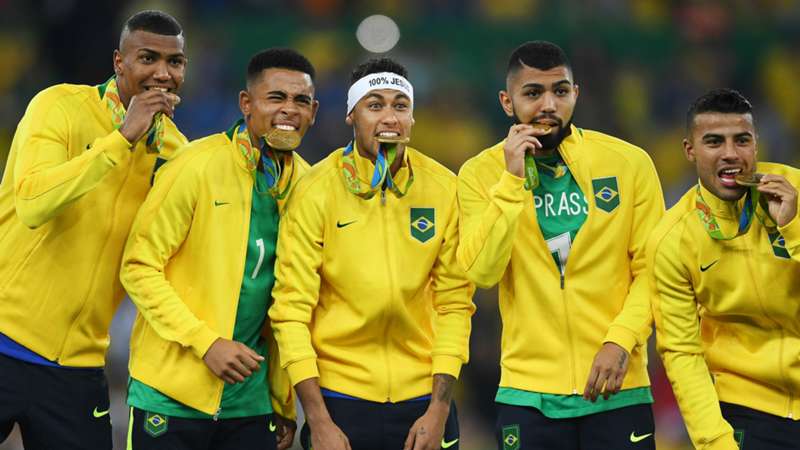 Here we take a look at the four teams that won two gold medals in a row at the Olympics.
Which teams have consecutively won gold medals in Olympic football?
| team | Editions |
| --- | --- |
| Argentina | 2004, 2008 |
| Hungary | 1964, 1968 |
| Uruguay | 1924, 1028 |
| Great Britain | 1908, 1912 |
How did the Brazilian men's soccer team fare in the 2020 Tokyo Olympics?
Brazil was placed in Group D alongside Ivory Coast, Germany and Saudi Arabia. Their campaign started with a 4-2 win over Germany. They drew in the second game against Ivory Coast, but came back strong in the third game, defeating Saudi Arabia 3-1.
In the quarter-finals Brazil beat Egypt 1-0 and in the semifinals they defeated Mexico 4-1 (0-0) on penalties and reached the final for the second time in a row.
Richarlison has scored the most goals (5) for Brazil and is also the competition's top scorer to date.